Philanthropy's Clear Role in Local Economic Development – By Kelli Cooper

By Kelli Cooper, Vice President, Albuquerque Community Foundation | November 21, 2017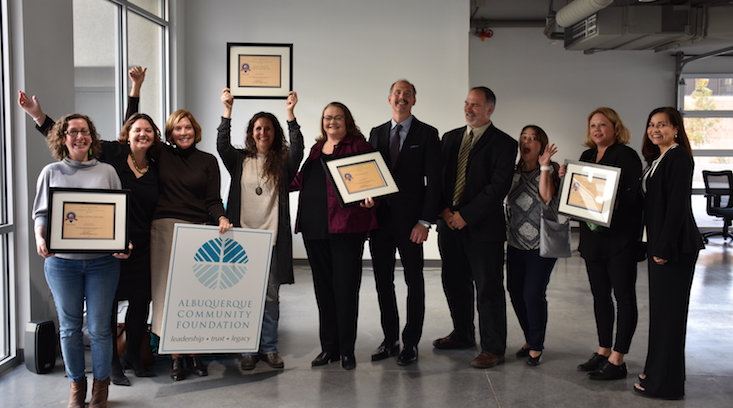 By Kelli Cooper, Vice President, Albuquerque Community Foundation | November 21, 2017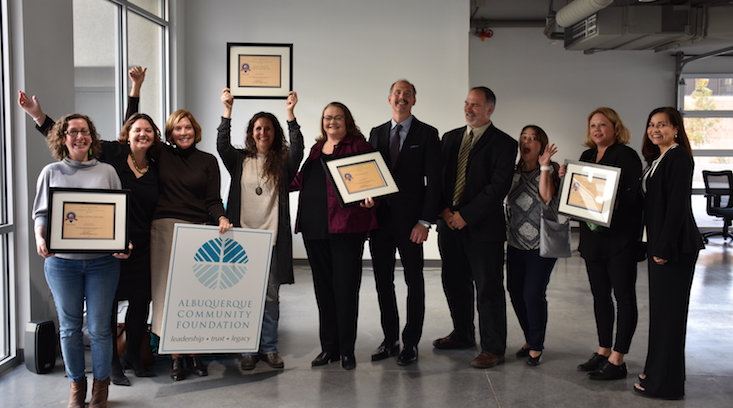 By Kelli Cooper, Vice President, Albuquerque Community Foundation | November 21, 2017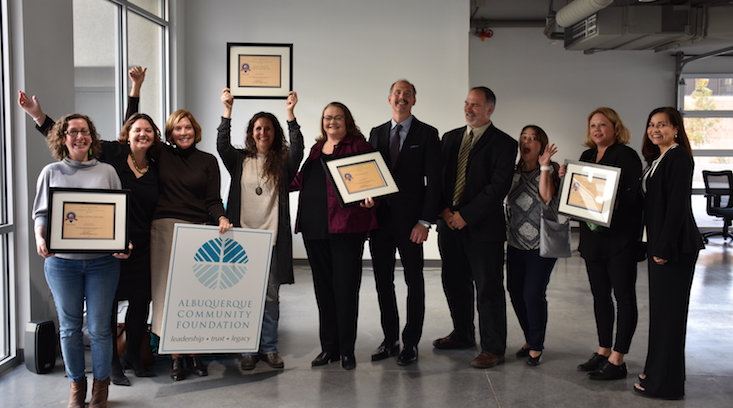 "We believe that we rise by lifting others up. In the first year of the [Mayor's] Prize alone, reports showed: 52 businesses supported or started, 318 jobs created or supported, and over 1,100 entrepreneurs engaged across grantees. In the creative economy alone, we saw nearly $11 million of revenue generated." Kelli Cooper
Around this time three years ago we were at the Epicenter at Innovate ABQ for our first Mayor's Prize for Entrepreneurship and I remember looking around the room and not recognizing anyone. It was to be expected, the Mayor's Prize for Entrepreneurship was one of Albuquerque Community Foundation's first forays into the economic and workforce development space. But, as I looked around the room at our third annual Mayor's Prize awards last week, it became clear the connections being made. And not only connections, the excellent programs developing in this space.
In the last years, it has become clear the role philanthropy has to play in our city's economic development. But, believe it or not, in our 36-year history, the Albuquerque Community Foundation had never been invited to partner with a Mayoral administration. The Mayor's Prize for Entrepreneurship is an invaluable partnership between the Albuquerque Community Foundation and the City of Albuquerque, and is an aligned contribution through our commitment to City Alive's goal of creating 10,000 living wage jobs by 2025. Together, we have identified the growth potential in Albuquerque's entrepreneurial ecosystem, particularly through the diversity of entrepreneurs receiving services through nonprofits that represent the immigrant community, tech-transfer sector, women entrepreneurs and low-income entrepreneurs.
Thanks to these collaborations across sectors, the Albuquerque Community Foundation is now part of the entrepreneurial ecosystem and I'm proud to tell you that, as of this November, we have granted $1.5 million dollars to economic and workforce development nonprofits.
Since our first Mayor's Prize for Entrepreneurship awards in 2015, the Prize has awarded  $600,000 to nonprofit organizations within the entrepreneurial ecosystem. We believe that we rise by lifting others up. In the first year of the Prize alone, reports showed: 52 businesses supported or started, 318 jobs created or supported, and over 1,100 entrepreneurs engaged across grantees. In the creative economy alone, we saw nearly $11 million of revenue generated.
The reach of the Mayor's Prize has also extended beyond these metrics to include unforeseen collaborations. In 2015, international entrepreneurs in the Global Ties program supported WESST clients at WESST's Holiday Pop-Up Shop, which resulted in 82% of the vendors indicating the shop was a financial and social success. TVC's Lab2Venture and Flying 40 events also featured Global Ties' Global Innovator Program to reach local businesses with an international focus.  
This year we received 14 proposals for the Mayor's Prize. There has been a distinct evolution of the quality of the applications over the past three years that clearly represent the growth and refinement of the programming of entrepreneurial support organizations in Albuquerque. The 2017 selection committee – made up of representatives from Intel, the Air Force Research Lab, successful local entrepreneurs and business and education consultants – ranked the programs more closely together than we have ever seen them before. Nearly every organization was worthy of the grant. There are truly excellent programs developing in this space.
We are proud to support the following four organizations this year. Their contributions to job creation, economic mobility and income and racial equity make them excellent resources in our entrepreneurial ecosystem.
— CNM Ingenuity: $65,000 for the IGNITE Community Accelerator and FUSE Makerspace initiatives. Both programs connect small-scale production methodology and practice with intellectual property assistance and distribution support.
— Downtown ABQ Mainstreet / Three Sisters Kitchen: $50,000 for the "Food Business Entrepreneurial Training Program," which provides aspiring, low-income entrepreneurs with facilities, equipment, supplies and training.
— Keshet: $10,000 for the Keshet Makers Space Experience, which provides concentrated cohorts for performing arts entrepreneurs (specifically choreographers and dancers) with space to develop and market products, complemented by arts business classes.
— WESST: $75,000 to La Escalera, a program for immigrant entrepreneurs that helps them formalize their businesses; improve financial management, marketing and business compliance skills; gain access to or improve use of banking services; and provide a support network.
As we look back on the last three years it is clear: the pace and scale of change in Albuquerque's economy is increasing. Last week was the Mayor's Prize for Entrepreneurship day, a month ago it was the UNM Rainforest grand opening, a few weeks ago it was the CNM's FUSE Makerspace and WESST Popup shop celebration. We have incubators, navigators and accelerators, we have partnerships like CNM and UNMs 2+1+2 program. There are so many new programs serving entrepreneurs in our community, we can't help but achieve our goals together.
Recent Articles
Albuquerque's International District is getting a new economic development center focused on supporting aspiring and established entrepreneurs.

Using Data to Make Local Government More Equitable

City governments collect an immense amount of data. Until recently, not enough of this data have been used to improve the quality of decision-making.