It Takes a Village — Lending and Its Role in Albuquerque's Entrepreneurial Ecosystem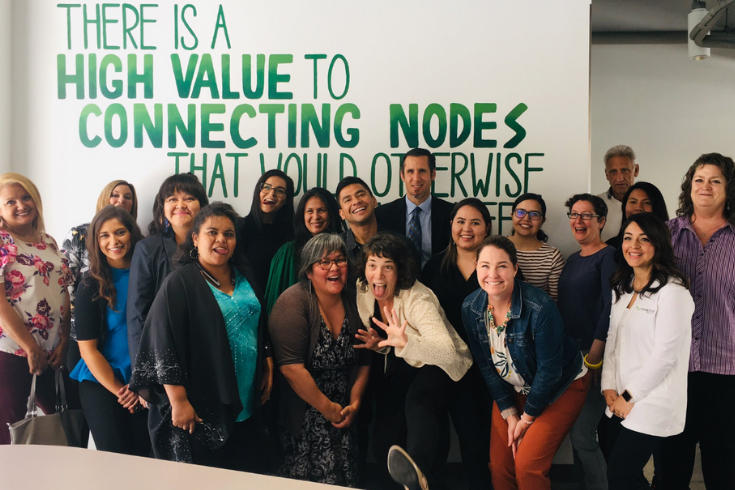 By Sara Keller, Vice President of Community Relations, Southwest Capital Bank
June 11, 2019
When you hear the words "Entrepreneurial Ecosystem" or "Access to Capital" or "Gig Economy" what do you hear?
Jargon.
Fluff.
Buzz.
What do you think?
Not where I live.
What access?
What about when you hear the words "small business", "family-owned", "side hustle", "artist", "legacy", or "start-up"?
Albuquerque.
It's all about perspective. Often, when we hear ecosystem and business, the concept seems foreign. But as Del Gines, Senior Community Development advisor for the Federal Reserve Bank of Kansas City said last month during a panel discussion at SXSW:
"[Ecosystem is] like the metaphor of 'It takes a village to raise a child.' The ecosystem is everything that goes into raising that child. The house, the neighborhood, the culture, the influence of your neighbors and peer group, all support that child to become a flourishing adult. In the same way, it's the environment that wraps around you to make you the best entrepreneur you can be."
Growing the Neighborhood
In April, members of City Alive, Co-Op Capital loan administrators, loan recipients and other community stakeholders had the opportunity to learn about Mission Asset Fund (MAF), an organization located in San Francisco's Mission District working to create a fair financial marketplace. They have been able to build on the practice of peer-to-peer lending that was already happening in their neighborhood and turn it into a scalable model that has been replicated with other nonprofit partners across the country. They've made some incredible strides, including making millions of dollars worth of zero-interest loans with a 99% loan repayment rate. We can learn from the amazing work they're doing.
Communities within the Mission District, and frankly throughout the country, already know that the greatest strength we have is each other; together we can meet the needs of many.
What does MAF do and why does it matter for Albuquerque?
MAF has formalized community giving by creating small lending circles where each member takes turns contributing to and receiving a loan from the group. Even better? MAF reports all transactions within the group to all three major credit bureaus, helping their clients to build or establish credit, creating a community, and (perhaps most importantly), pairing its lending with accessible, relevant and timely financial literacy education tools. With the support of MAF, this model has been replicated in 64 agencies across the country, resulting in $10,000,000 loaned to 10,000 people.
Impressive, right?
So, what does a model like this mean for Burqueños? Well, it is an opportunity to learn about the possibilities right here within our community. Paired with the micro-lending and asset building models we're familiar with (WESST, Prosperity Works, Co-Op Capital, and Accion to name a few), it's an opportunity to explore new possibilities. But building relevant alternative and accessible lending models is something that requires work.  
MAF illustrates how this model can make a tremendous difference in communities when paired with a support system of resources and people working toward similar goals – even when the loans are low (less than $2,400). For MAF, partnerships are at the core of all scalable results. Their success provides a strong case for Albuquerque partners to communicate the opportunities available to small business owners and entrepreneurs, and to ensure they have access not just to capital, but resources like: licensing, marketing, customer cultivation, data collection tools, physical space, education, financial literacy, traditional banking partners and much more. We have a clear path and the necessary tools to support our entrepreneurial ecosystem. And we should use them.
Where do we go from here?
That's where the work of City Alive's 22 partners comes into play. From the perspective of Southwest Capital Bank, we know that when entrepreneurs have positive experiences with financial institutions, they begin to do better in other areas too. But the ecosystem is far more complex - entrepreneurs need essential resources like space, training opportunities, human resources and marketing support. The neighborhood has to work together from various angles.
That's the essence of our work through City Alive; we are collectively changing systems. But the word system often feels like a four-letter word. Systems are complicated, can create barriers, and are sometimes difficult to navigate.
For an entrepreneur working to turn their side-hustle into their full-time gig or a small business owner looking to hire their first employee, systems can feel like a thing they have to fight against instead of something working to propel their business forward. What City Alive's partners are working to do is to break down those barriers and connect entrepreneurs to solutions that support an environment that wraps its arms around entrepreneurs to lift them up and not out of Albuquerque.   
As the Vice President of Community Relations for Southwest Capital Bank, it is clear to me that this collective impact model is essential to not only grow Albuquerque's economy, but to formalize and communicate an already vibrant entrepreneurial ecosystem. I'm fortunate to work for an organization committed not only to improving the local community, but also to learning from others and raising Albuquerque up as an important player on the national scene.
Albuquerque has given so much to me and my family, to Southwest Capital Bank, and to everyone who is lucky enough to be part of City Alive. We are committed to finding ways to make financial stability accessible to all , and look forward to a brighter financial future.
Connect the Dots
City Alive connects leaders from across the city from different sectors to have a collective impact on entrepreneurship in Albuquerque. By working together to remove barriers to access to capital and other necessary resources, entrepreneurs have a better chance of starting and scaling their business.
---
Recent Articles
City Alive Recognized Internationally

City Alive's entrepreneurship video series won bronze in the nonprofit social video category.

It Takes a Village — Lending and Its Role...

We know that when entrepreneurs have positive experiences with financial institutions, they begin to do better in other areas too.

On Turning Mayors into Entrepreneurial Ambassadors

When it comes to keeping and attracting young innovators in our state, opportunities are key. Over the last five years, education institutions and leaders in the private, philanthropic and nonprofit sectors have been making investments to generate more opportunities, especially in the realm of entrepreneurship. These efforts, like the innovationAcademy at UNM, are beginning to gain traction and see results.
Join our newsletter
Stay inspired by Albuquerque's homegrown businesses.